Deliver All Of Your Company's Cyber-Week Orders Accurately And On Time
OceanX can onboard all, or a portion, of your company's fulfillment operations in less than a month, delivering all orders with 99.8%+ order accuracy and ZERO order delays for the upcoming peak holiday season.
SCHEDULE A QUICK CALL TO LEARN MORE
BRANDS THAT PARTNER WITH OCEANX
OceanX can board all (or a portion of) your company's fulfillment operations within 21 Days!
If your fulfillment centers aren't prepared for the unprecedented volume this holiday season you may experience unforeseen costs, increased backorders, and delayed shipments. OceanX can help your company deliver all orders accurately, and on-time this holiday season.

SAVE MONEY
Gain access to top-tier postage rates from our expanded network of carrier partnerships.

DELIVERY SUCCESSFULLY
On-time, accurate, and beautifully packaged products throughout the year (peaks are no exception).

FULL VISIBILITY
Access actionable data in real-time that provides full visibility into inventory, tracking, returns and more!
NATIONWIDE SHIPPING COVERAGE
PICKS EVERY HOUR ON EVERY FULFILLMENT LINE
ORDER & INVENTORY ACCURACY
SAVE UP TO THIS PERCENTAGE ON POSTAGE
OCEANX IS PREPARED FOR PEAK SEASON
(EVEN DURING THIS PANDEMIC)
HEALTH & SAFETY
We've put non-contact infrared thermometers in all of our fulfillment centers to measure our employee's temperatures and to ensure the safety of our teams and your products.

EXPANDED CARRIER PARTNERSHIPS
We are expanding our carrier partnerships to sustain delivery service levels while providing competitive postage rates for our clients during the holiday season.

TESTED TECHNOLOGY
We're performing regular 'stress tests' to ensure OceanX's fulfillment' systems and integrations continue to operate successfully under challenging conditions.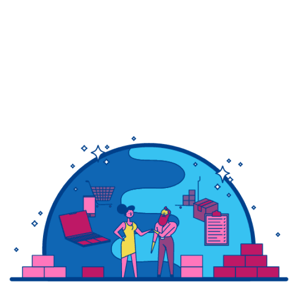 PLUG-IN
Connect your store's eCommerce data to OceanX's systems with the assistance of our technical on-boarding team.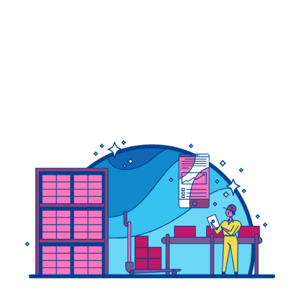 STOCK-UP
Ship your inventory to OceanX's state-of-the-art fulfillment centers throughout North America.
SHIP-OUT
Once an order is placed on your website, our fulfillment team picks, packs, and ships your products to your customer.
Is Your Company Prepared?
This year's Cyber Week is on track to the be the largest on record. You can ensure your company's fulfillment operations are prepared by bringing on a modern fulfillment partner that specializes in high-volume and complex shipping needs. OceanX is the fulfillment partner you can trust. Schedule a quick call to discuss your fulfillment needs today!